In the last decade, filmmaking in the non-profit sector has shifted dramatically to meet the needs of a new digital world and its ever-changing audience. How we tell stories has moved away from traditional types of fundraising that highlight need. Now, there's a focus on inspiring docu-style films that empower people to share their stories.
As a producer for World Vision Canada, I've worked on over 15 non-profit film sets around the world. I've experienced this shift in storytelling first-hand and I believe that it offers incredible, new opportunities both in the aid sector and the filmmaking industry.
A new era of authentic stories
In the '90s, it was common to see more "fundraising" driven content. But, now the tropes that represent that style are often referenced as what not to do: sad piano music, unnecessary 24fps slow motion and – most notably – the people on camera rarely speak.
A major criticism of videos from that era is that they didn't represent the voice of those we were working with – they were manipulative and guilt-inducing. It's why there's been an emergence of groups like Radi-Aid, which focus on holding non-profits accountable for telling authentic stories about the people they work with.
The shift to docu-style storytelling
Social media changed everything and content production is no exception. It revealed that audiences were looking for raw stories; people wanted content that was interesting, informative, and entertaining. The penny dropped. If you look at any major non-profit, you can pinpoint the time that their videos shifted to more docu-style storytelling.
Our focus for capturing content is to be authentic, with a goal to present stories as we find them. True to the context, which can mean depicting both success and failure.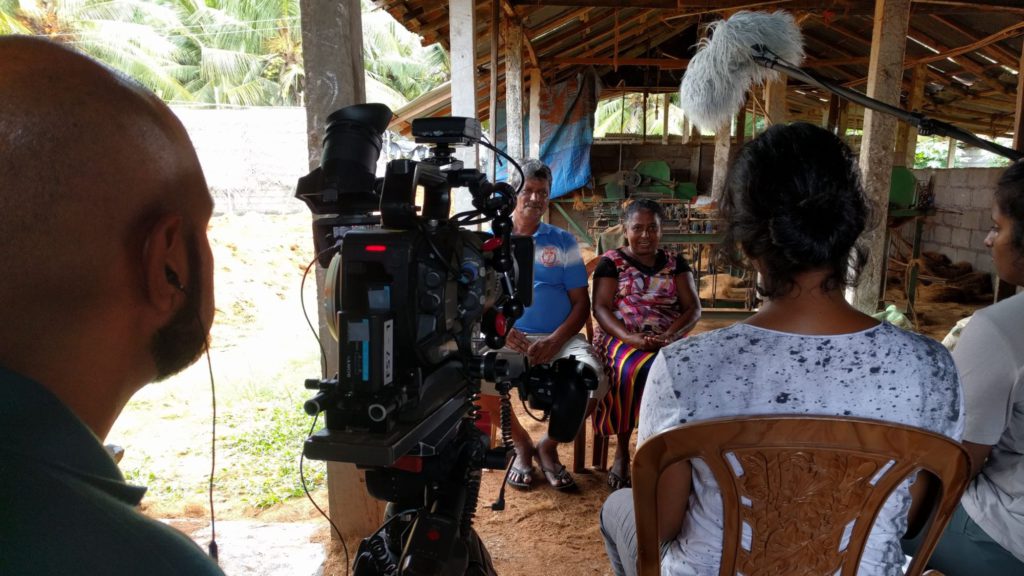 The typical practice has been for the non-profit fundraising office to send a crew on a trip to gather stories. Armed with information from local communications staff, a team of 2-4 people (friendly Canadians in our case) pack their bags and set out to some of the most remote locations in the world. Right out of the gate there are some inherent issues with this process:
Gear-related obstacles:
Transporting gear on a plane with carry-on luggage limitations.
Equipment import costs when landing in the country may add to the overall budget. In countries like Kenya, the fee is a set percentage of the retail value of all of the equipment, which can add up.
Visa conditions may be more difficult traveling with equipment. In some cases coming in with equipment means you need to apply for a journalist visa, which can be tricky to get.
Accessing rural communities takes time and you may run into charging issues.
Logistical obstacles:
Budget constraints may often lead to short amounts of time spent on the ground.
Accessing rural communities takes time and you may run into charging issues.
Non-profits may look to maximize story opportunities on costly trips by setting multiple filming objectives.
Limited resources may mean information and pre-scouting is sparse.
For me, the logistical obstacles are the biggest hurdle and that's not even a full list of the challenges that may arise. Your pre-trip scouting documents may have all the makings of an incredible story – but often the team will land, have just one day to capture a particular story, and end up coming up short.
All these obstacles contribute to our main challenge: how do you craft a compelling narrative where the main focus of the video is represented authentically?
There are two major ways that we have shifted our filmmaking process to build an inclusive and empowered set. Both adjustments have already immensely improved our product, which not only increases the quality of the piece but builds trust with our audience at the same time.
1. Invest time in relationship building
How would you feel if you were abruptly pulled from your planned day and sat down in front of a camera with people you don't know speaking a language you don't understand? Uncomfortable, right? It wouldn't be a setting where I'd feel like I could authentically share experiences from my life.
Yet, this can happen pretty frequently on story-gathering trips. Your itinerary might have you meeting with one person for 4 hours on day 3 and that may be all you get. This problem has plagued many of our productions in the past and while you can certainly get something from this process, it may not be the full and most compelling story.
The Jackstones project
A significant change in our process was realized in 2018 with the creation of Jackstones, a long-form documentary profiling the work of a community of Filipinos to rejuvenate their coral reef by dropping artificial reefs into the ocean.
The documentary gives an intimate look at the difficulties and successes experienced by the community and follows several leaders as they work to transform their environment. The only way the crew was able to effectively capture this is simply by investing their time in the people they wanted to film with.
The Jackstones Project allowed the crew to implement two ways to invest time: the first being the addition of scouting days. Now, in this case, the scope of the project allowed for an initial trip where the director and cinematographer traveled to the Philippines to meet and spend time in the community. It gave them precious opportunities where they weren't filming, just sharing meals together and talking through the world around them. The result? Once filming started the community was at ease with the crew, giving them a level of access that they wouldn't have received previously.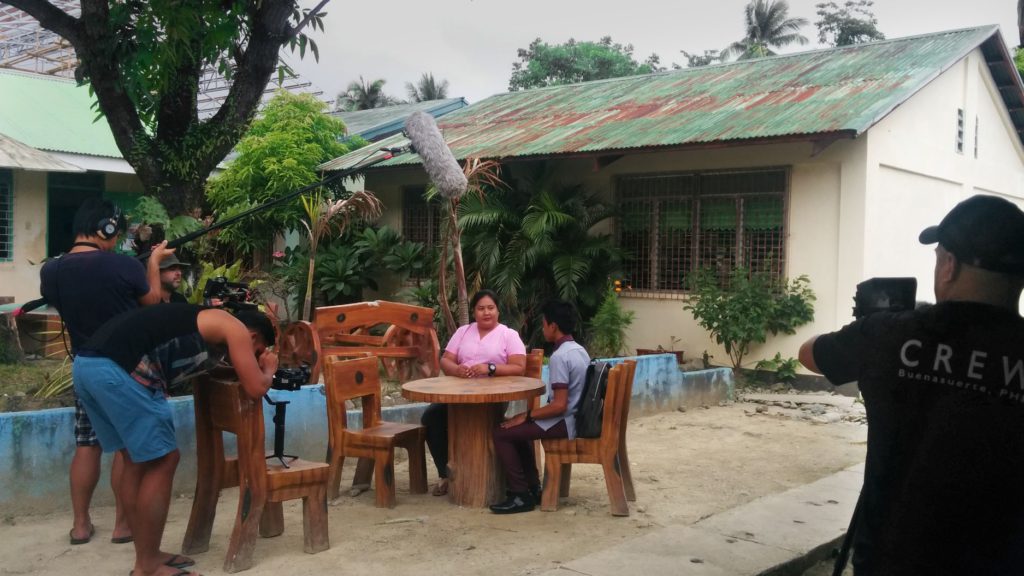 Ways you can invest in relationships in your own filming
On shorter trips where the scope and budget are a bit tighter, suggest one or two days to be added on the front end of the trip for scouting. Take this time to go and meet with the people you will be filming with. Share a meal with them, talk about things completely unrelated to the project you are working on; by investing in relationships you're going to increase the ability and confidence of the on-camera person to share their story.
Critically, it also builds trust, as the subject of your project needs to feel that their story will be safe in your hands. It may feel strange to travel around the world just to hang out, but it will lead to an immeasurably better final video.
2. Work with local filmmakers
The other way you can help empower your subject's voice is through your crew. In 2017, we worked with an Inclusive Design Specialist, Abid Virani, who identified a major overseas filming gap – that each country we worked in had a strong community of filmmakers who spoke the language and understood the culture in ways a North American crew couldn't.
In 2018, I had the opportunity to put this into practice while filming female entrepreneurs in Sri Lanka. The trip was structured to be 8 days, total. Of those, 4 were spent traveling to and from Sri Lanka. The other 4 were spent filming at a rate of one story per day, including a day where we tried to wedge in two!
That timeline alone is rushed and we had concerns about delivering on time. But, we were able to accommodate for the tight trip by partnering with a local film crew, Dreamforge Productions. I worked with them on pre-production scouting as well as story work, and then I met them in person for the 4 days of shooting.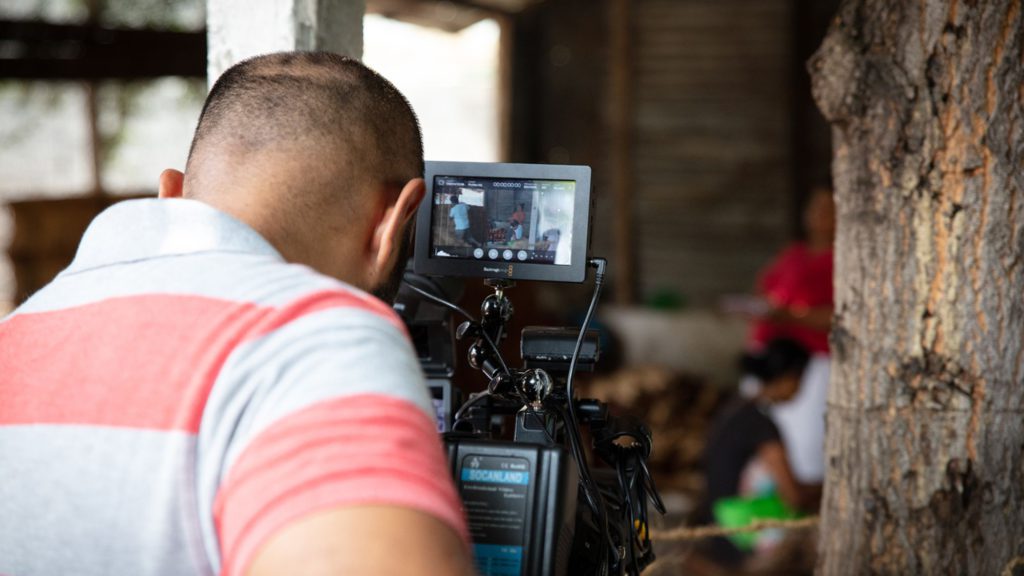 Breaking down language and knowledge barriers
The advantages were immediately clear. I traveled with a Canon 5D MKIV for some photography, but otherwise all equipment was sourced by Dreamforge. After a brief production meeting on the first night, it became clear that the crew had line-of-sight to things that I hadn't even considered. Their ability to communicate with the entrepreneurs made for effective interviews and they were able to adapt to challenging situations on the fly. They even went back after I had left to get the ever-important drone footage.
On one of the filming days we arrived late to meet one of the business owners due to a travel issue. Once we started talking to the entrepreneur, it became clear that we had been given the wrong written information in our pre-production work. We thought we were filming a dressmaker but instead were at a peat moss and coconut husk production plant. With limited time to create, Dreamforge shone. They immediately took the business owners aside and had a conversation with them on our objectives and their story. It's something I couldn't have done efficiently with the language and knowledge barrier.
The team quickly learned that the factory had been flooded repeatedly during the rainy season. While many other factories left their employees to fend for themselves, the entrepreneurs had kept in touch with their workers, checked in on them during the work stoppage, and were able to restart their work as soon as the flood waters receded.
Dreamforge relayed the story points to me, to which I could only really say, "Yeah that sounds great, go for it." The result was a quality story and a family that was comfortable sharing on camera about a difficult time in their lives. It became pretty clear I really wasn't even needed, except for helping the cinematographer frame up his shot.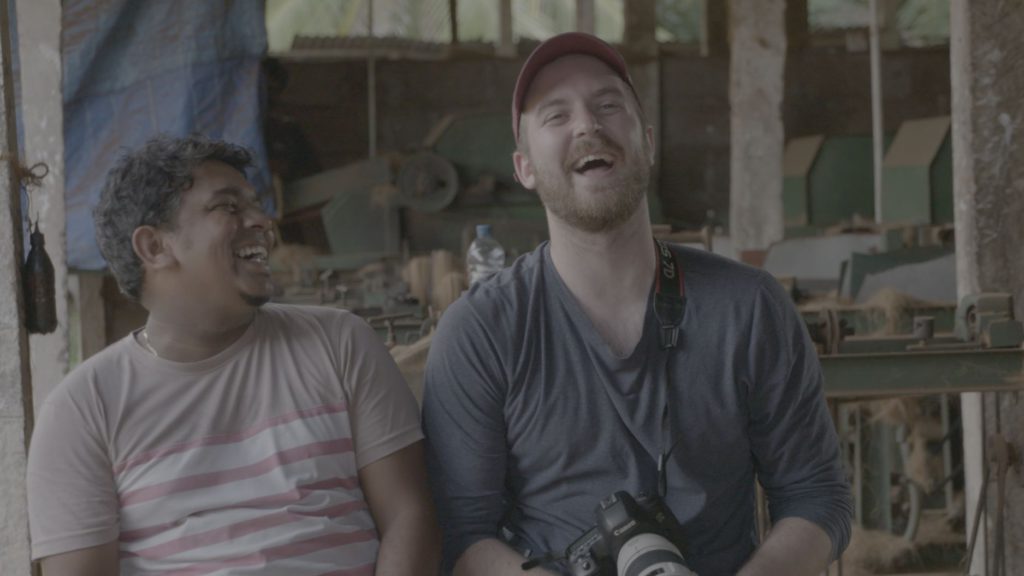 The great benefit here is that I'm not necessarily required to travel. With a great crew like Dreamforge, I can do most of the production from my office, and trust that the crew will gather the footage necessary to tell something compelling. We don't have to wait on somebody to fly to a country; we can be agile and responsive, focused on telling the story that will resonate with our audience all while reducing our overhead and environmental footprint. Critically it also allows us to support film communities around the world.
Where to start finding locally sourced talent
Lean on connections. Just like you would ask around for talented, diverse and creative talent in your own location, reach out to people who you know have connections where you are going. For us, we lean on our Programs Staff. These are the people responsible for overseeing and executing all of our work, who often live within the communities where they work.
Usually, they will have encountered a creative talent or two that you can connect with to start your research. Maybe the local office where you're going already has worked with a team on a small project and can verify quality. Start with those connections and work from there.
While we implemented this focus on working with locally-sourced talent to create a more inclusive set, in recent times it has become even more critical. COVID-19 made the future of travel uncertain and nobody knows what it will look like in the future, so building relationships with locally-sourced teams is even more important to ensure we can keep producing content, even when borders are closed.
A wider world of non-profit filmmaking
What's most important here is growing and empowering the storytelling abilities of people with perspectives and creative energies that are different from our Canadian style.
Approaching content in the non-profit sector with a single creative scope just doesn't capture the breadth and depth of the people's stories that we have the honour to share.
It's our responsibility as filmmakers to care for the stories entrusted to us; it's also our responsibility to make sure the way we share those stories is done in a way that uplifts and empowers the voices behind them.
About the author